As well as touring the exhibition in the community hall, and viewing the original artwork on display and for sale, you may also like to spend your time in the village attending one or more of the workshops being held. There will be a map at the village community hall for location of workshops.  Coffee and cake will be available to buy all day outside the community hall.
Participants will be asked for a $2 gold coin donation at workshop venues, – workshops are one hour and materials provided – unless stated otherwise below.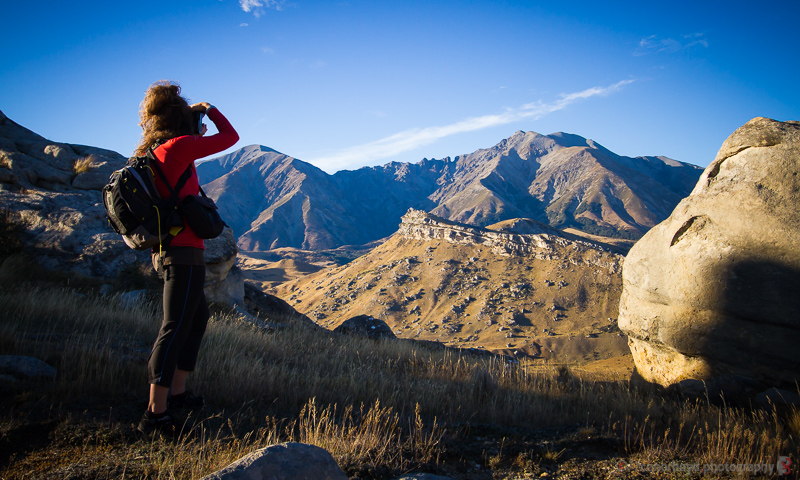 Saturday
9am  – Photo Trail – Join John O'Malley and Conor Boyd around the village for tips and tricks on landscape photography, depending on conditions will dictate where exact location.  Meet: Village community hall, and will probably require initial travel by car, (so please be prepared to car-pool. (potentially Kura Tawhiti or beyond) – allow 2 hrs
9am  – Kids Stone painting  – Children can paint prepared stones with their own designs. These will be spray varnished later that evening when dry and will be available for you to hide around the village on Sunday or Monday. Pick them up from the cake marquee (next to hall) from Sunday morning onwards. Then you can spend some time finding each others and hiding them again. Meet: 21 Torlesse Place
10am – Learn to Dowse – Dowsing has been used throughout world history to locate underground water, iron, tin, coal and more recently oil, electric cables, drains and ancient archaeological sites. In this session Barry Brailsford will teach how to dowse including for subtle earth energies. Meet: On the Village Green. Dowsing rods provided. 
11am – Kids Zentangle – a method for creating artwork by drawing structured patterns. Come along for drawing on a paper tile with dots, curves, lines and orbs, to create a small piece of artwork to take away at the end. Suitable for ages 6 and up. Meet: 60 Trelissick Loop
12 noon  – Magic Pond Walk – We will take you to the Magic Pond, crossing the Thomas River below the village and over to the bush (so you might get wet feet). On the way we will show you some interesting gems of nature, some trapping systems designed to get rid of predators, and give you some photo opportunities. The Magic Pond walk is short and suitable for all ages. Meet: Village community hall with your lunch and a drink, warm clothing and sturdy shoes, and your phone/camera. Something to sit on would be a good idea too.
1pm – Kids Beading  – Children can build their own necklace or bracelet from a wide selection of cool beads on to a elastic string. Supervision and help with tying the knot and sealing the join, before they can take home their creations. Meet: Olympus Terrace (house nearest the village green)
2pm – Kids craft – Helene will guide children to explore their creativity with a selection of natural materials to create some 3 dimensional designs, mini sculptures or pictures. Meet: 15 Porter Place
2pm – The Zentangle Method –  an easy-to-learn, relaxing, and fun way to create beautiful images by drawing structured patterns. Almost anyone can use it to create beautiful images. Ildica will guide you through creating non-representative art work by drawing structured 'tangles'.   This workshop is for adults (16 and over) Meet:  60 Trelissick Loop 
4.30pm – Decorate your bike Competition – Children can enter this competition for free, but must decorate their bike (and themselves too if they wish), to win some creative prizes – you must be able to ride your bike whilst decorated!  All ages Meet: Tennis Court at the village hall
Sunday
9.30am – Easter Egg Hunt – The annual hunt is on again, please get your donation of chocolate eggs to 25 Slalom Place before 9am on Easter Sunday (and extra bunnies will also be welcome at 9am to help set up.)  Meet: Village Community Hall at 9.30am
10 am – Author Talk – John O'Malley will be talking about the photography for Jenny Abrahamson's book , John and Charles Enys: Castle  Hill Runholders (1864-1891) – pioneer sheep farmers from Cornwall who ran the station for more that 25 years. The book with over 50 paintings by Charles have been matched as a then and now with John O'Malley's photographs. Meet: Cake Marquee, Village Community Hall.
11am – Kids craft – Helene will guide children to explore their creativity with a selection of natural materials to create some 3 dimensional designs, mini sculptures or pictures. Meet: 15 Porter Place
2pm – The Zentangle Method –  Adult and child combined – how often do you get to do a creative class with your kid? Come along to an easy-to-learn, relaxing, and fun way to create beautiful images by drawing structured patterns. This Zentangle class will run a wee creative project that you do with your child. Ildica will guide you through creating non-representative art work by drawing structured 'tangles'.   This workshop is for all ages  Meet:  60 Trelissick Loop